Here's the latest on COVI9-19 in Nueces County (including Corpus Christi)
...605 new cases Tuesday; now 7032 total, and 542 have recovered. 326 in the hospital and 83 in ICU
...6 people died Tuesday
...64 people have died
...On June 30th, we had 2394 cases in our county and 8 deaths (5 deaths in June, 0 May, 3 April)
...Since July 1st...15 days ago...56 people have lost their life to the COVID-19 virus in Nueces County.
San Patricio County officials report 13 new COVID cases, pushing the county's overall total to 352. Of that total, 208 have recovered. One COVID patient remains in the hospital.
Live Oak County reports their first death related to COVID-19 and 3 new cases of COVID-19. That brings the case number up to 85. According to officials, 30 cases are in quarantine and 34 cases are recovering. This leaves 64 active cases for the county as of Tuesday.
My hometown of Tilden, and McMullen County, now reporting their first positive COVID-19 case. I know the person who has been diagnosed, a good friend of my little brother...I've known the family my whole life.
All Coastal Bend residents must make every effort to stop the spread and break the link of infection of COVID-19.
● Stay at home if you are sick.
● Practice social distancing with everyone outside of your immediate household.
● Wear a mask when in public.
● Wash your hands frequently with soap and water for at least 20 seconds.
● Avoid touching your eyes, nose, and mouth with unwashed hands.
● Avoid close contact with people who are sick.
● Disinfect frequently touched surfaces at home and at work. IT IS TAX DAY
This year, July 15this Tax Day!Yes, every April 15th– except when it falls on a weekend or a holiday – or this year, global pandemic – THIS is the day we all dread. Now hopefully you know this already – if not, get on those tax forms, quick! – because whether you like it or not, you've gotta do your "civic duty" and send in your taxes so the state and federal governments can spend it!
If you want more information about taxes, we'd suggest that you check out the tax code!Except you probably can't, because its over 70,000 pages.And once you're done – you can "celebrate" Tax Day, by cheering the fact that it won't happen for another 364 days. WELL THIS DIDN'T LAST LONG...
Kanye West is reportedly giving up on his presidential run. New York Magazine's" Intelligence"r reports that the rapper has withdrawn from the 2020 presidential race less than two weeks after announcing his plans to run. Steve Kramer, a member of Ye's campaign team, has reportedly told the outlet that West will no longer run. Kramer had been hired to help Kanye get on the ballot in Florida and South Carolina. Source:NME
FROM THE SHOW ABOUT DANCING WITH THE VAGUELY FAMILIAR...
Tyra Banks' next gig is taking her from the catwalk to the ballroom. The model is set to host and executive produce the ABC dance competition series. TMZ reports that Banks was in talks with ABC long before the network cut ties with Tom Bergeron and Erin Andrews. Banks says she's been a fan of the show since its beginning. The news comes a day after it was announced that Bergeron and Andrews would not continue as hosts for the show's upcoming 29th season. Source:TMZ
Ghislaine Maxwell Denied Bail, As New Revelations Emerge
Ghislaine Maxwell will remain behind bars until her July 2021trial begins – this, after being denied bail in a New York courtroom. While she was reportedly not planning to appear during the proceedings, she did via video link to plead not guilty to charges of helping recruit young women for Jeffrey Epstein to sexually abuse.The judge saw the prosecutions argument about Maxwell's risk of flight as serious reason to keep her on ice. "The combination of the seriousness of the crime, the potential length of the sentence, the strength of the government's case at this stage," Judge Alison Nathan offered. "The defendant's foreign connections and the defendant's substantial financial resources all create both motivation and opportunity to flee."
As we told you before, the 58-year-old British socialite was arrested earlier this month at a mansion in New Hampshire. And speaking of those 'financial resources?" As prosecutors laid out their arguments regarding Maxwell's holdings, it was revealed that her "significant and unexplained wealth"may be connected to the fact that she's apparently married to someone she's declined to identify. Source:Forbes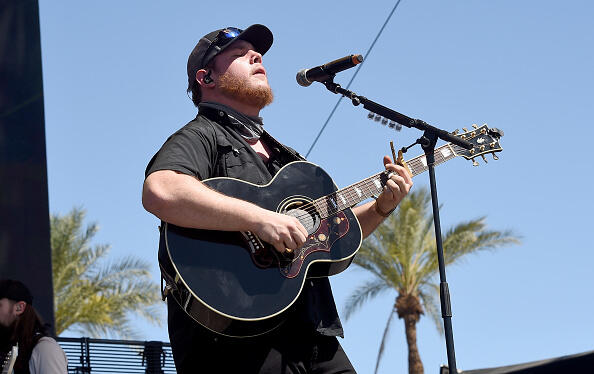 Luke Combs just made chart history. In the 56 years of "Billboard's" Top Country Albums chart, no artist has ever had their first two studio albums spend 25 or more weeks on top until now.
This week, Luke's sophomore album "What You See Is What You Get" is at number one for its 25thweek. Meanwhile, his debut album, "This One's For You," spent a whopping 50 weeks at number one. 
Not only that, only three other artists have hadanytwo albums spend that many weeks at number one. They include:Alabama, whose second and third albums, 1981's "Feel So Right" and 1982's "Mountain Music," spent 28 weeks at number one; Garth Brooks whose 1990 album "No Fences" spent 41 weeks on top and 1991's "Ropin' The Wind" spent 33 and Shania Twain, whose 1995 album "The Woman in Me" spent 29 weeks at number one, and 1997's "Come On Over" spent 50.
Source:Billboard
Watch as Lin-Manuel Miranda hears "Weird Al" Yankovic's "The Hamilton Polka" for the first time. Epic.